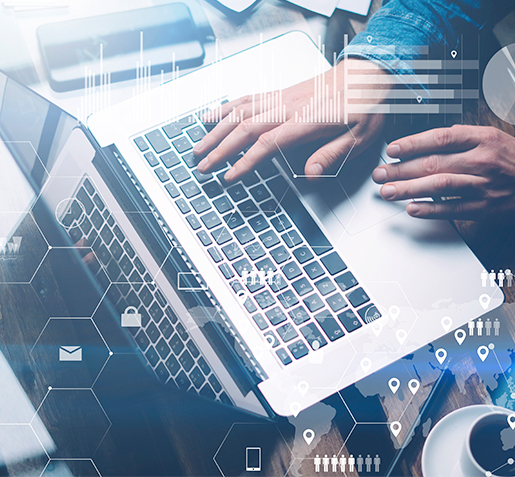 Cybersecurity for SMEs
At MTP we create secure spaces to protect your business from threats and cyber attacks.
Protect your business from potential cyber attacks
In recent years, cybersecurity for SMEs has become a fundamental pillar in the business structure. This increase in cyber attacks is due to the importance of the digitisation of projects and the value of data.
In order to protect yourself against this type of attack, it is essential to have an expert cybersecurity team in your company. At MTP we offer you the best customised cybersecurity solutions for your company.
Safety and security for your business
The increase in the number of companies opting for teleworking is another factor that has led to an increase in cybercrime in companies.
At MTP we study the different channels through which a computer hacker can access your network, thus shielding your data and that of your employees.
Cybersecurity solutions for SMEs
Our experts in cybersecurity for SMEs will study and create customised solutions for your business to reinforce the protection of your business against possible attacks. Find out about our cybersecurity services for companies:
CONSULTANCY AND ETHICAL HACKING FOR COMPANIES
We carry out all types of consultancy, computer security audits or ethical hacking tests for companies, as these exercises are the ideal tool to find out the security status of the company. Thanks to them you will be able to check the vulnerabilities and weaknesses of your computer systems, communication and internet access against attacks.
Thanks to these services aimed at companies, they make it possible to improve and increase security, which is essential to guarantee the operation of the business and protect the integrity of the information it handles.
WE DESIGN TAILOR-MADE IT SECURITY PLANS
Preventing the theft of your business data, passwords or documents is essential in an increasingly digital environment. In addition, due to the implementation in many companies of the non-face-to-face working day, the number of transmissions of sensitive information and external connections to the databases of our companies has grown exponentially.
That is why, before implementing any IT security solution in your corporate network, at MTP we carry out a detailed study of your needs and check for possible vulnerabilities. We are experts in computer security.
FAQs
Cybersecurity in a company or SME covers all the measures taken with the aim of protecting information and the different communication channels, both internal and external, through the use of specialised tools, the establishment of policies and processes.
A good IT security strategy will protect the systems, data, software and hardware of your company and your employees, thus avoiding possible attacks of data theft, viruses, identity theft, among others.
Data theft is one of the main consequences of a computer attack. This is caused by unauthorised access by hackers to our databases.
Cybercriminals have many ways of trying to gain access to company databases, such as impersonating an employee or supplier, through attacks on the computer system itself or through security breaches.
Having a cybersecurity company is vital to protect your business data. With companies like MTP you can count on the best professionals in data protection and the establishment of good practices.
Contact our sales department now and find out about the different cybersecurity services that MTP offers for companies, digital projects and public institutions.
A hacker is a person with advanced computer skills whose objective is to detect vulnerabilities in the computer systems of companies, institutions and personal computers in order to steal information, block systems or carry out actions against computers.
There are different types of hackers, on the one hand we find those called "crackers" or bad hackers, who focus on developing and executing illegal activities, and on the other hand we find the good hackers, who take advantage of their knowledge to detect flaws in systems and aim to improve them.
The term Malware encompasses all those applications and developments that aim to carry out attacks against the computer security of corporate, institutional and personal computers.
Examples of the most well-known malware applications are viruses, Trojans or worms.
One of the best known methods is phishing, which is based on tricking the user into inserting sensitive information such as bank accounts, passwords or personal data in apparent official documents or those of known members of the public, such as work colleagues or family members.
The evaluation of computer risks in a company must be a permanent activity in order to provide the best protection for the data, both of the business itself and of its employees, suppliers and customers.
MTP offers its cybersecurity services for companies with the aim of being able to detect security breaches and prevent possible cyber attacks.